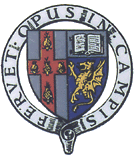 TRUE BLUE PROMOTIONS
PRESENTS
PATTY FESTIVAL of AMERICAtm 2K9
FESTIVAL UPDATE!!! PATTY FESTIVAL RESCHEDULED FOR SATURDAY SEPTEMBER 12, 2009 DUE TO BAD WEATHER - SEE YOU THERE!!!
ABOUT
The Jamaica College Old Boys Association of New York, Inc through its True Blue Promotions Division, presents the first annual Patty Festival of Americatm September 12, 2009 at the Evander Childs High School Soccer Stadium in the Bronx. Due to inclement weather the Festival has been rescheduled from the original 8/29 date.

Featuring:
* Soccer tournament with Excelsior, Camperdown and JC - Over 40 & Under 40 teams
* Under 13 Kids Soccer Tournament.
* Ladies Soccer Tournament
* Patty Eating Contest
* Patty Tasting Contest
* Kids Games - Egg & Spoon, Tug -o-War, Face Painting etc
* Domino Tournament
* And Much More!
The mission of the Patty Festival:
Promote and raise the public profile of the Jamaican patty as a staple of American cuisine as well as highlight the major patty producers responsible for the outstanding success of this Jamaican favorite in the USA. This event provides a platform to salute the entrepreneurs who have fostered the largest business enterprises in our community.
Sponsors
Tower Isle's Frozen Foods, Golden Krust Bakery & Grill, Royal Caribbean Bakery, Bruce's Patties, Brammer's Subway, Caribbean Lifestyle TV, Winners Circle Radio
EBIT CARD BELOW...TICKET PAYMENTS & DONATIONS ACCEPTED
PROCEEDS

COMPUTER PURCHASE TO RE-EQUIP JAMAICA COLLEGE COMPUTER LAB & SCHOOL'S CHALLENGE TEAM
JCOBA IS A NY REGISTERED CHARITY WITH TAX EXEMPT STATUS UNDER SECTION 501 (C) 3 OF THE IRS CODE
THANKS FOR YOUR SUPPORT!
Please spread the Patty Festival good news to all your contacts via Email, Facebook & All Social Media thru the SHARE THIS button below.
FOR MORE INFORMATION CONTACT:
Dr Dwight Williams, JCOBA President
Tel: 917.769.7367 Email: dwilly@optonline.net
or
SHAWN FALCONER, Patty Festival Coordinator
Tel: 917.574.0364 Email: shawnnoclaf@hotmail.com